Discussion Starter
•
#1
•
I apologize for the lack of pictures of this installation, but I just wanted to get it done.
First, I bought a rear view camera off ebay that replaces the license plate light plastic cover.
CAR REAR VIEW REVERSE CAMERA FOR LEXUS CT200H | eBay
$17 shipped. To my surprise, this is actually pretty great in quality.
Second, I bought a rear view mirror with a 3.5" screen built in. The brand is Crimestopper, I am told Gentech is their parent company. My friend works for a third party that installs for dealerships and this is what they use. It's currently on amazon for ~$140 shipped.
On to the installation..
First you'll need to open up the rear hatch and remove the black plastic panels
Once this is done, you'll be able to access the bolts that hold on the tail lights, remove these and take the tail lights out.
Then, you'll find 2- 10mm bolts that hold the plastic piece that goes above the tail lights with the Lexus emblem. Remove these bolts, then remove the 2 bolts that hold the mechanism that opens the trunk. Once this is done you should be able to pop the plastic piece above the tail lights off.
Now you just remove that clear plastic piece that goes over the license plate light bulb and replace it with the one with the camera. I had to unscrew the camera, and insert the plastic piece, reinstall everything and then screw that camera back in.
Next, just run the wires though the inside of the hatch, grab power and ground at the reverse light bulb wires and run the RCA through the black boot. Once you get it ran through the boot, run the wire up to the front of the car.
Now to install the mirror.
You take the base of the OEM mirror, and keep wiggling left to right, left to right. Eventually the squarish piece will pop out. This will expose the part of the mirror that is connected to the car itself. There's a tab you press down to slide the mirror off.
Now that it's off just slide the new mirror on, connect the RCA, tuck the wires and run the rest of the wires down the drivers kick. Remove the plastic pieces under the drivers kick and this will expose a number of plugs. If the largest plug with the most wires there will be a few redish pink wires. Look for the largest one and test it with a multimeter, this should be your reverse wire. Connect the power wire from the mirror to this and ground the ground wire.
Put the pieces back together and the camera should kick on when you put the car in reverse.
Here's a picture of the camera
And one of the rear view mirror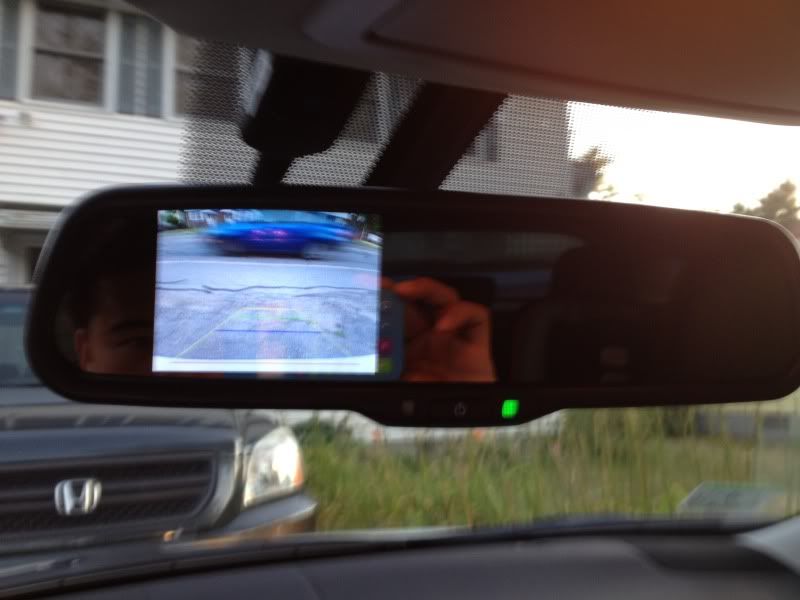 Overall install time: ~1 hour