I just found this photo of the interior with Black Nuluxe. I have to say it looks a bit disappointing. Any other photo I saw the black nuluxe looked a similar color to the black interior colors. In this photo the nuluxe definitely looks to be a contrasting shade of black, something I was not expecting.
To me it does not look so good. I'm hoping that either this was a pre-production photo and or this photo is not how it actually looks.
Makes me wish even more for gray leather..
Please let me know your feelings.. I'm kind of anal about the way things look to my eye. My eye is maybe not like everyone else's... Comment please...
Small photo from Lexus Build it now.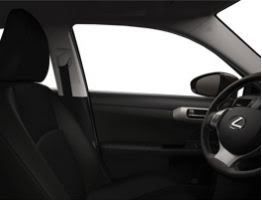 Large photo from Colorado Dealer Blog
Interior 360. Doesn't look the same as large photo above.. arghhhh..
INTRODUCING THE ALL NEW CT200h